Image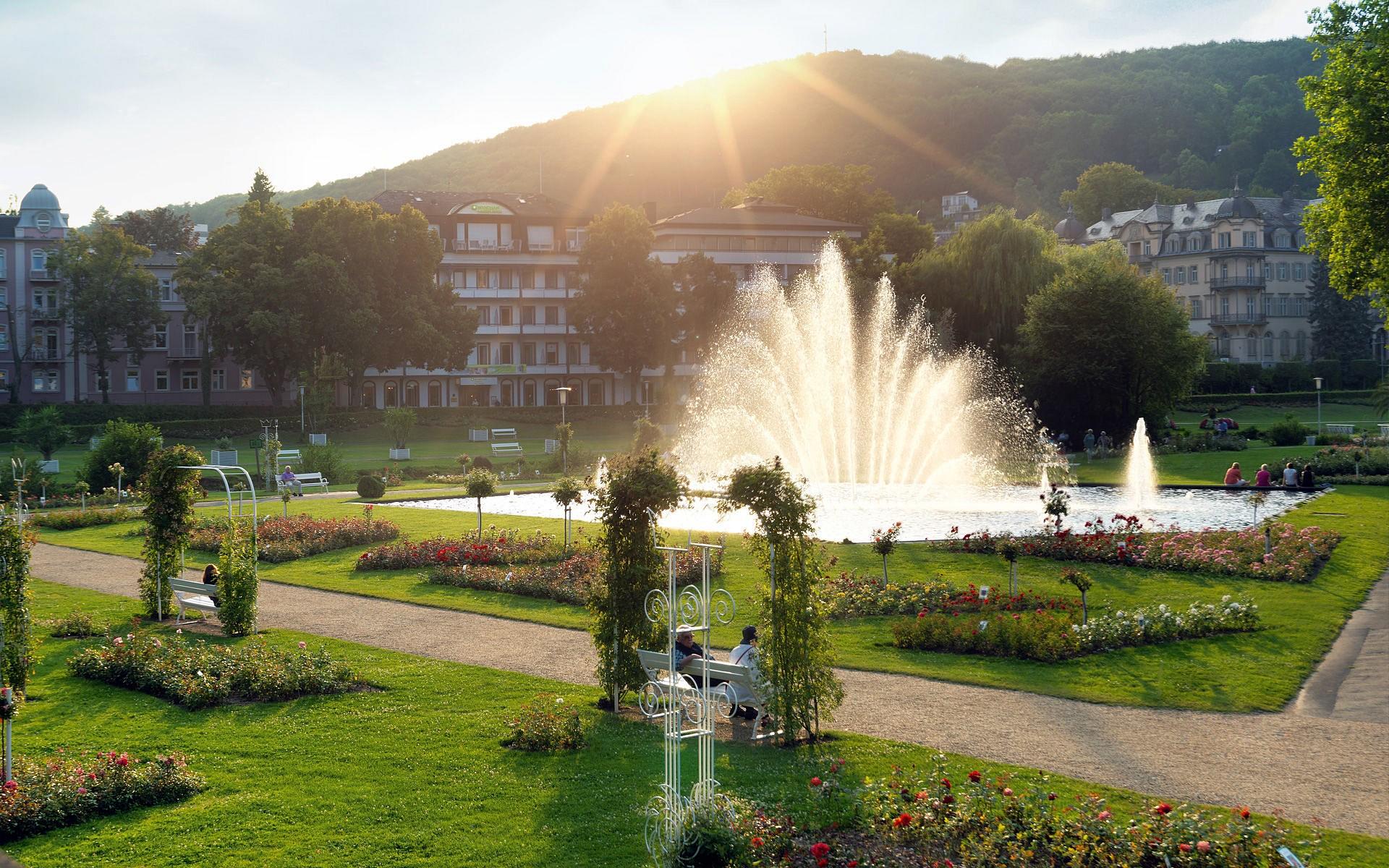 Experience Bad Kissingen in its diversity.
The world heritage site offers many historical monuments and beautiful sights. 
See and enjoy.
Hyperlink to the TKM
Regentenbau Bad Kissingen
Be enchanted by the cultural heart of Bad Kissingen. Marvel at the impressive vaulted ceiling painting by Julius Mössel. It shows the Greek singer Orpheus in an African landscape.  You reach the famous Max Littmann Hall, which is one of the five best concert halls in the world, via the White Hall, which enchants with its opulent stucco decoration. Due to the intense color of the walls, the elegant Green Hall captivates with its Art Nouveau-inspired décor.
Rose Garden Bad Kissingen
Especially in early summer, you can enjoy more than 160 different types of roses and about 6,000 rose bushes in the nearby rose garden. Let yourself be enchanted by the overwhelming sight during a walk in the blooming season. An absolute experience offers the multimedia fountain with its regular beamer shows which inspires with musical water choreographies.
Luitpold Park in Bad Kissingen
All year round, nature shows itself impressively in the Luitpoldpark. Enjoy an extensive nature experience in English style, with its partly exotic tree population. Here the harmony of relaxation and sporting activities meets directly.  Bring your body, mind and soul in harmony with the daily "triad" or strengthen your cardiovascular system in the Mediterranean Kneipp landscape.
KissSalis Spa
Visit the award-winning and most beautiful thermal spa in Bavaria.
On a total area of more than 7,000 m² you can escape from everyday stress through extensive wellness programs.
Here, the Bad Kissingen healing water is in the foreground and is used in a variety of ways for your relaxation.
Graduation house in Bad Kissingen
Stroll along the saline promenade to the graduation house, which is about 2.3 km away. Here you can enjoy a health-promoting microclimate, which is similar in its effect to the climate of the North Sea. Strengthen your immune system by purifying your respiratory tract and regenerating lung function through conscious inhalation.
Wanderhalle
Besuchen Sie die schönste Wandelhalle Europas, welche zwischen 1910 und 1911 von dem Architekten Max Littmann errichtet wurde. Knüpfen Sie nahtlos an die jahrhundertealte Kurtradition an und wandeln mit einem Glas Heilwasser durch die Wandelhalle. Genießen Sie dabei die zu Bauzeiten innovativ errichtetet, in den Kurgarten nach außen drehbare Konzertmuschel.
Arkadenbau
Bestaunen Sie den prachtvollen, 150 Meter langen und denkmalgeschützten Arkadenbau in Bad Kissingen. Mit Ihrer Gastkarte, steht Ihnen dort der komfortable Lesesaal mit aktuellen Zeitungen und Magazinen zur Verfügung. Auch die Tourist-Info steht Ihnen dort für alle Fragen rund um Bad Kissingen zur Verfügung. Des Weiteren finden Sie im Arkadenbau den prachtvollen Schmuckhof, welcher mit seiner eindrucksvollen Wandmalerei und Figuren aus der griechischen und römischen Mythologie beeindruckt und den königlichen Rossini-Saal, welcher eine stimmungsvolle und hervorragende Akustik durch seine Ausstattung, mit Rundbogen und prächtiger Kassettendecke aufweist.
Nachtwächtertour
Erleben Sie im flackernden Laternenlicht 90 Minuten lang die versteckten Winkel und Geheimnisse Bad Kissingens. Nacht für Nacht sorgte auch einst der Nachtwächter von Bad Kissingen in jeder Straße für Ruhe und Ordnung. Im historischen Gewand und mit der unverkennbaren Laterne ausgestattet, wird die spannende und zugleich historische Figur des Nachtwächters, von Udo Dickhage für Sie wieder zum Leben erweckt.